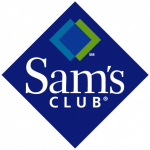 Sam's Club is pretty smart. They are offering Open Houses on the weekends when various states are having their tax-free weekends.
So, on certain weekends you can shop at Sam's Club free without a membership and not pay sales tax on eligible items.
States that having both tax-free weekends and Sam's Club open houses this weekend include: Alabama, Arkansas, Florida, Iowa, Louisiana, Missouri, North Carolina, New Mexico, Oklahoma, South Carolina, Tennessee, and Virginia. Check HERE for all the details.