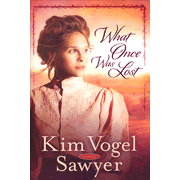 Through Blogging for Books, I had the opportunity to read
What Once Was Lost
by Kim Vogel Sawyer. It was just released Sept. 17!
I think I've established before that I do enjoy historical fiction. Now 1890 is not as far back in time as I usually like to go, but since the story occurs in my home state of Kansas (Go Wildcats and Jayhawks!), I thought I'd give it a try.
I was really please by the story line. There were twists and turns. There were disappointments and challenges. There was growth in the characters.
Poor farms. Fires. Unplanned pregnancy. A blind boy. A reclusive miller. A mission board. Counterfeit money. These things and more work together to grow Christina Willems on greater dependency on God, heal Levi Johnson's past hurt, and eventually grow them together in marriage and ministry. Thankfully like real life, it takes take a hard journey to get to that point.
I appreciate the fairly accurate sample the story gives of the culture and mores of this time AND how they agree or disagree with living true Christianity.
Click HERE if you would like to download and read chapter 1 of the book.
And go HERE if you would like to purchase you copy!
I received this book for free from WaterBrook Multnomah Publishing Group for this review.
In the spirit of full disclosure, this is an affiliate link, which means that I may get a commissions if you decide to purchase anything from Christianbook.com. I only recommend products & systems that I use and love myself, so I know you'll be in good hands.