My original blog was my coupon blog. I've expanded it some to include money saving and such. I've started linking my blog posts over to this blog as well. I'm sure you've noticed. Well, at least I hope you've noticed!
Anyway, I just wanted to let you know officially that I've been doing that because as this blog has expanded to home in general, I felt my couponing things applied as well. If you like my blog more for the home education aspects, well, consider my couponing as teaching thrift to my daughter!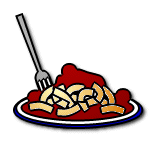 So, I'll continue to send links over here when I post over there just in case you're interested. I'll also post a few links on my side bar that I find helpful in being the homemaker God wants me to be. So far, I've added Swag bucks (which I've also used to get free curriculum) and Coupons.com (which I've also used to get free or really cheap school supplies). See! A woman's life is like a plate of spaghetti. Every strand touches and connects with everything else!
Also, for those in the area. My coupon class at church has been rescheduled until Monday, Aug. 15 which is next Monday. I'm calling it "Not Extreme Couponing". It will cover just the basics, but you can run with it and become as extreme as you'd like!